Membership
Playing Golf
Club members play golf over the Montrose Links, which is home to the 1562 Championship (Medal) course and the shorter but still challenging Broomfield course
Club Membership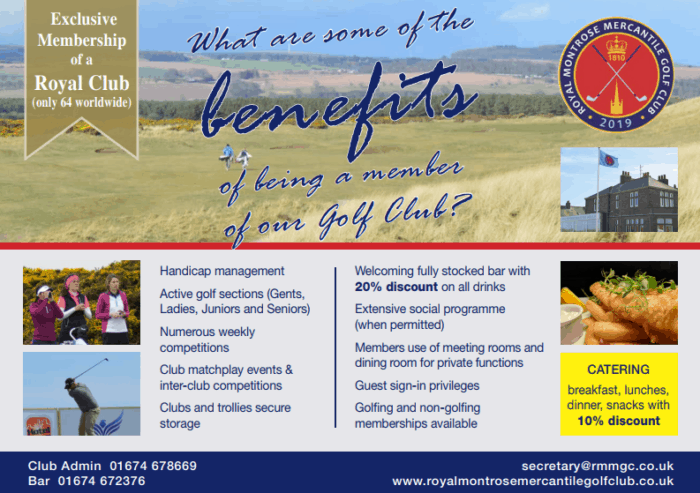 The Royal Montrose Mercantile Golf Club welcomes Lady, Men, Student and Junior members. There is no waiting list for membership and no entry fee. The Membership Year runs from 1st April to 31st March.
It should be noted that Country, International, Associate and Junior Members have no voting rights within the Club.
At Montrose, Club Membership and Golf Season tickets are paid for separately.
The two historic golf courses at Montrose (1562 and Broomfield) both are municipal courses, owned by the local authority and administrated on their behalf by Montrose Golf Links Limited. There are over 800 Season Ticket Holders with playing rights over one or both courses. Royal Montrose Mercantile Golf Club have access to priority tee times throughout the year on Saturday mornings and early afternoon.
Season tickets for both courses can be arranged via https://montrosegolflinks.com.
In order to enjoy all the benefits of Club Golf;  handicap management, active golf sections, stroke play/match play competitions, interclub matches, bar and catering services, social programmes (when permitted)  etc., you need membership of Royal Montrose Mercantile Golf Club too.