Peter Wilkie Catering
Our Dining Room is franchised to Peter Wilkie, an experienced professional chef, who welcomes members and visitors with very comprehensive menus.
Peter also welcomes full-catered parties and private functions. You may contact Peter direct on 07784 637 645.
Standard Menu
Hot Filled Rolls
Bacon Roll, Link, or Lorne sausage roll, Black pudding roll, Haggis roll, Fried egg roll
Royal Big Breakfast
Sausage, bacon, black pudding, haggis, fried egg, beans, tomato, mushrooms, & potato scone
The Small Fry
Sausage, bacon, fried egg, mushrooms, & potato scone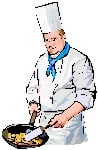 Burgers
6 oz Angus Beef Steak burger & chips
6 oz Angus Hillock burger & chips
(6oz Angus steak burger topped with cheese, haggis, & green peppercorn sauce)
Char grilled chicken burger & chips; whole butterfried breast of chicken served plain or cajun spiced.
Crispy crumbed vegetable burger & chips.
All burgers served with lettuce, tomato, burger relish, home-made onion rings and home-made coleslaw.

Sandwiches
Grated cheddar cheese (& pickle)
Roast ham
Mexican chicken
Roast chicken mayo
Egg mayonnaise
Coronation chicken
Prawn Marie Rose
Tuna mayonnaise
Roast ham & cheese
Choose from brown or white bread, all the above served with homemade coleslaw, & potato crisps.
DAILY SPECIALS BOARD ALSO AVAILABLE.